I thought it would be nice to walk through the Excel 2008 configuration steps to query Oracle. I was quite surprised when navigating the path, this error dialog was thrown: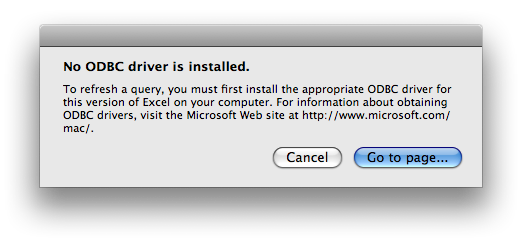 When you navigate to the Microsoft web site, you'll find that you have a choice of an ODBC driver from

Open Link or Actual Technologies. You might think that Oracle would have their own ODBC driver that you can use without paying for a 3rd party solution. Unfortunately, there isn't one. The most recent kits are missing the libsqora.so shared library. The only ones that I could find are for the Mac OS X Tiger edition.
I may have missed something but you'll find the Oracle documentation here. Feel free to comment with a solution. My solution is to use Code Weaver's CrossOver Mac, and Microsoft Office 2007. How I regret the money wasted on Microsoft Office 2008.
A quick note, addendum, it looks like Actual Technologies is the best. Unfortunately, they charge for one copy for Oracle and another for MySQL and Postgre. What a discouraging note, but I may bite the bullet on the $60 bucks for both. I'll defer the MySQL and Postgre until they release their 2.9 version. Don't forget to also download Microsoft's Query tool.