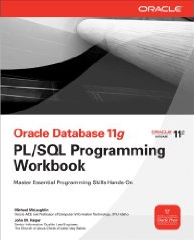 I got a request Saturday for me to post code for the Oracle Database 11g PL/SQL Programming Workbook. You can download the book code here. It should also be on the McGraw-Hill web site tomorrow.
The irony for me is the timing of the request. I didn't get it until late Saturday night when I had to make an early plane to Dallas, Texas on Sunday morning. It teaches me once again, that I should keep my book updates in one place and backup in a convenient carry-anywhere location.
I also found out that the Bulletin Board I'd set up wasn't accessible. At least, accessible to anybody but bots. I uninstalled and re-installed it, and configured it. Now I'll start maintaining it. You can find it at http://plsql11g.net.