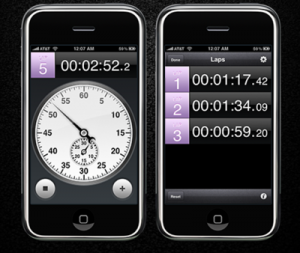 My son's graduating with his B.S. in Computer Information Technology next month, moving on to his internship, and today released his first independent iPhone App – Chronos Stopwatch. This link takes you to his blog. He did an awesome job on writing the Bizarro iPhone App under contract, but I'm very happy he and Miles Ponson started writing their own software.
It was amazing seeing him sort through all the myriad issues in balancing analog clocks, the decaseconds refresh rates, and a lap counter. I'm sure a few swimming and track coaches will like this utility if they have an iPhone. Throughout his development cycle, the process has been fun to watch. He certainly loves Objective C.
Just as an aside, it has also been gratifying to know that he finally found major uses for the database, like set operators, inline views, and stored procedures. He once noted they weren't too useful.

Leave a Reply