Archive for August, 2010
Summer's almost over and it time to start blogging again. It's strange to think that Oracle OpenWorld is only a month away, and MySQL and JavaOne are all in the same event. I'm looking forward to it! As I did two years ago on my MacBook Pro, I'll blog during the event on my iPad.
Anyway, I want to provide an observation about the HP LaserJet 1606dn and HP support. As a late reminder to me, always test purchased equipment within the return window. I failed in this case and Murphy's law struck. I bought a DOA HP LaserJet 1606dn from Staples. I must go through the RMA process because I didn't take it out of the box until after the 14 day return policy.
I thought explaining it to a store manager might allow me to return it, but I was wrong.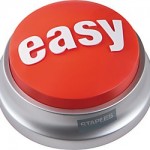 Their policy is ironclad. It's actually a wonderful example of why Staples' Easy Button ISN'T EASY for consumers when you fail to test the product within 14 days of purchase. Make that 13 days, so it can be returned on the 14th day.
Anyway, HP's Support Chat Queue works well. It was responsive but the RMA policy leaves much to be desired in a world of identity theft. Their shipping group wants to call you at their convenience to secure a credit card for the RMA. They don't provide you with a number that you can confirm, or a process that supports your schedule. Clearly, the cost of support is more important to HP than customer satisfaction.
I'll update what happens as it all sorts out. The problem with the HP LaserJet 1606dn is that it doesn't recognize ink in the LaserJet toner cartridge. It appears to be a sensor defect but the support staff person maintained excellent transparency, which means I'll never know for sure if they shipped a bunch of bad units. The quickness in agreeing with the sensor failure gave me the impression that they may know something they're not saying. Alas, we may never know for sure …
The moral of the story is always: buy, immediately test, and return failures to avoid RMAs. Especially, do so with brick-and-mortar stores like Staples, so you can walk it right back for a full refund and avoid the RMA.
After I dig into their Registry management, I'll have more to say about working around HP's approach to drivers. Their approach requires uninstalling the printer software and then re-installing it when you use DNS licenses for the printer IP address. It appears their logic is in a combination of configurations files and the Windows Registry. When I sort it out, I'll post it and how to work around it. Oops, that's hack it, isn't it. 🙂
This week I attended the first ACM conference on Bioinformatics and Computational Biology in Niagara Falls, NY. The next conference is in Rome next January. It was interesting to note who's using what technology in their research.
Here's a breakdown:
Databases: MySQL is the de facto winner for research. Oracle for clinical systems, mostly Oracle 10g implementations. That means moving data between the two is a critical skill. Specifically, exporting data from Oracle and importing it into MySQL. Oracle was criticized for being a DBA-preserve and unfriendly to development. When I probed this trend, it seemed to point to DBAs over managing sandbox instances at companies with site licenses. Microsoft SQL Server didn't find a lot of popularity in the research community.
Programming Skills: C#, C++, Objective-C and PHP were high on the list. C# to import data into Microsoft SharePoint and develop Windows SmartPhones. C++ to extend MySQL. Objective-C to develop iPhone and iPad applications. PHP to build applications to manage studies and facilitate input, but there were a couple using Perl (not many).
Collaboration Tools: Microsoft SharePoint won handily. It's made a home in the clinical and research communities.
Overall, they want programmers who understand biology and chemistry. They'd like knowledge through Medical Microbiology and Introductory Biochemistry, and they want strong math and statistical knowledge in their programming staff. They like Scrum development frameworks. They seem to emphasize a chief engineering team, which means the developers get maximum face-time with the domain experts. The developers also have to speak and walk the talk of science to be very successful.
As to Niagara Falls, I'm glad that I took my passport. The Canadian side is where I spent most of my extra time and money. It has the best views of the falls, the best food, and ambiance. Goat Island and the Cave of the Winds are the only two features I really liked on the U.S. side of Niagara Falls. The U.S. side is dreary unless you like gambling in the Seneca Niagara Casino & Hotel. Since I'm originally from Nevada, I never entered it to check it out. Technically, when you step on the casino property you enter the Seneca Nation of New York. The New York state government in Albany really needs to address the imbalance or they'll continue to see Canada score the preponderance of tourist dollars.