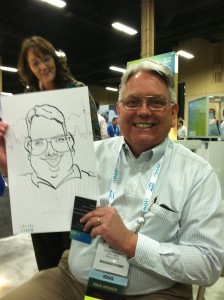 Collaborate 2012 started on Sunday but for me I began on Monday. I enjoyed Bob Burgess, SalesForce, presentation on shell scripting for MySQL Administration today. It preceded my presentation in the same room, which I thought was an interesting coincidence since we got our conference credentials together.
I presented on portable SQL between Oracle and MySQL. The presentation went well. Before I took questions, I got to ask them because I had three copies of my new Oracle Press book to give away: Oracle Database 11g and MySQL 5.6 Developer Handbook. Handing out the books served as a nice ice breaker for the audience to ask questions about the presentation.
My favorite question was, "Will Oracle continue to improve MySQL?" My answer to that is always simple because Oracle's support for MySQL has and continues to be great, "Oracle only spends money on winners and that means MySQL wins." Oracle product management was in attendance and they re-enforced Oracle's commitment to MySQL.
At 6 p.m., the Exhibit Hall opened and I checked it out. Cisco hired Kathy Bailey to draw caricatures, and she drew mine as you can see at the left. I'm looking forward to more presentations tomorrow.