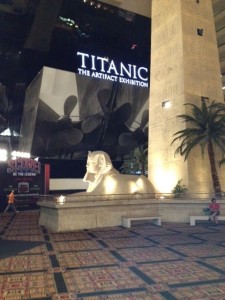 It seems the Titanic is everywhere, even inside the pyramid of the Luxor hotel. While the Luxor is within the Mandalay Bay complex, it's about a half mile walk to the conference and a half mile back. We go by the Mandalay Conference Center's aquarium. We thought it might be interesting but at $18 an admission, we opted to pass on it. It's amazing to have an aquarium in the desert, but it's probably not as nice as the Monterey Bay aquarium.
It was interesting to start the day listening to Rich Niemiec on partitioning tables and using Exadata in Oracle. The NoSQL (Not Only SQL) presentations were interesting, as was the upgrading of Oracle 11gR2 in an E-Business Suite environment presentation. Then, I finished the day with what's new with the Oracle VM Server.
Checking out the exhibit hall I managed to get a signed copy of Rich Niemiec's Oracle Database 11g Release 2 Performance Tuning Tips & TechniquesOracle Database 11g Release 2 Performance Tuning Tips & Techniques and a copy of MongoDB: The Definitive GuideMongoDB The Definitive Guide.