Archive for the 'Apple' Category
Over the years, this bug never gets fixed. I know it must irritate more people than just me. Unlike those who live in urban communities with great download speeds and relatively inexpensive Internet providers, I live in an area held hostage by expensive CableOne Internet service. Net neutrality won't fix my issue.
The Apple iTunes bug occurs after you download a movie and the cloud symbol disappears. At first, it may appear as designed, with only one image displayed, like Papillon and Passengers is shown below: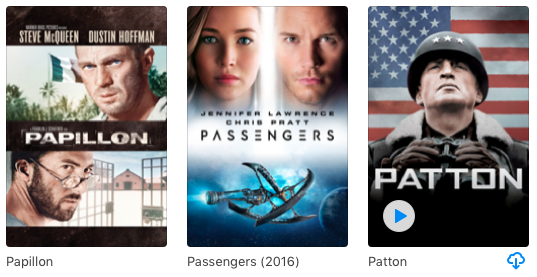 From time to time, Apple iTunes gets confused (polite speak for an intermittent bug) and creates a new iCloud image side-by-side with the downloaded version of the movie. You can see that with the image of The Adventures of Robin Hood: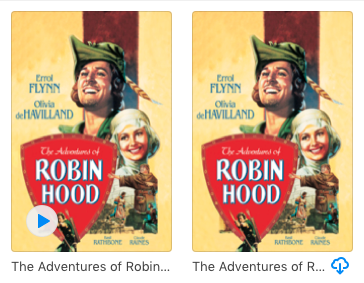 It annoys me and it takes time to fix. The present solution is to delete the downloaded file image and then re-download it if you must have a local copy (the tedious lives of those outside of large metropolitan areas). Naturally, for those of us outside of large metropolitan areas with monthly restrictions on the size of downloads, Apple's solution is not a viable workaround. Unfortunately, Apple appears disinclined to figure out what causes the problem or fixing it in the existing iTunes code base. When I called Apple's iTune support it took a third level engineer to agree that the problem even exists. 😉
What happens when iPhoto doesn't export movies? One of two things, you re-install iPhoto and risk losing the movies and photos; or you drop down to the Terminal level and move the files manually before re-installing iPhoto.
Option one is easy, you open iPhoto, choose File from menu, and Export… from the File menu list. When you get to the dialog, change it Kind value to original. If everything is working, you should be able to double click the exported file in a Finder window and launch the program with QuickTime Player.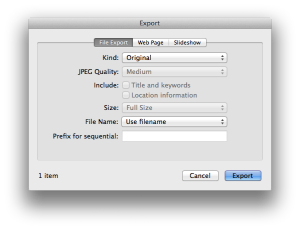 It's important to know how to use option two when you've copied the movies from your iPhone, iPad, or iPod, and then deleted them. At this point, all you have is a recovery option from your local MacBook, MacBook Pro, or iMac to a safe folder (or command-line directory) before updating iPhoto.
This is how you perform option two:
Open Finder and navigate to your user's home directory, left click on Pictures, and then right click on iPhoto Library and choose Open With option from the first floating menu then Terminal on the context (or second) floating menu.
In the Terminal window, a pwd command will show you the following directory for a user with the name someuser:
/

Users

/

someuser

/

Pictures

/

iPhoto Library
Again in the Terminal window, type a ls command will show you the following directory structure:
AlbumData.xml		Info.plist		Projects.db
Attachments		Library.data		ThemeCache
Auto Import		Library.iPhoto		Thumbnails
Backup			Library6.iPhoto		iLifeShared
Caches			Masters			iPhotoAux.db
Contents		Modified		iPhotoLock.data
Data			Originals		iPhotoMain.db
Data.noindex		Previews
Database		ProjectDBVersion.plist
In the Terminal window, change directory to the Originals directory with this syntax from the previous directory:
The directory structure can differ because of changes over time. The following is a snapshot example from 2012:
Jun 

15

, 

2012

    Jun 

21

, 

2012

    Jun 

24

, 

2012

	Jul 

21

, 

2012

    Sep 

3

, 

2012


Jun 

18

, 

2012

    Jun 

22

, 

2012

    Jul 

4

, 

2012

     Aug 

14

, 

2012

    Oct 

20

, 

2012


Jun 

19

, 

2012

    Jun 

23

, 

2012

    Jul 

7

, 

2012

     Aug 

24

, 

2012

    Nov 

21

, 

2012
Change to any of the preceding directories, and copy the *.MOV files to new directory. I've elected to copy the files to the following directory or the someuser home directory (you can make the directory using the GUI Finder interface):
/

Users

/

someuser

/

MovieBackup
While the directory structure can differ because of changes in iPhone versions over time. Once you change into one of subdirectories of the Originals directory, you can move all of the movie files from one of the subdirectories with this command to the MovieBackup directory:
cp

 

*

.MOV ~someuser

/

MovieBackup
It's possible to move all your files by scripting a more elegant Bash file. As always, I hope this helps those who encounter the problem.
One thing that gets tedious in the IT community and Oracle community is the penchant for Windows only solutions. While Microsoft does an excellent job in certain domains, I remain a loyal Apple customer. By the way, you can install Oracle Client software on Mac OS X and run SQL Developer against any Oracle Database server. You can even run MySQL Workbench and MySQL server natively on the Mac OS X platform, which creates a robust development platform and gives you more testing options with the MySQL monitor (the client software).
Notwithstanding, some Windows users appear to malign Apple and the Mac OS X on compatibility, but they don't understand that it's a derivative of the Research Unix, through BSD (Berkeley Software Distribution). This Unix lineage chart illustrates it well: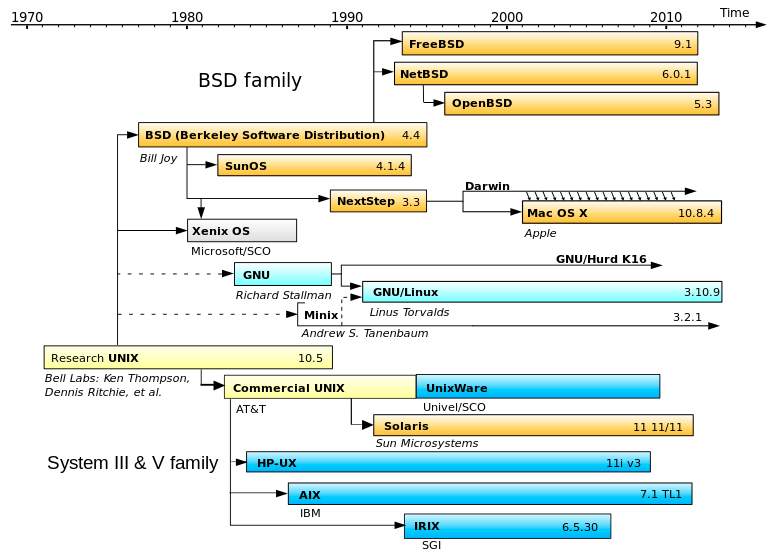 I'm probably loyal to Apple because in the early 1990's I worked on Mac OS 6, Mac OS 7, A/UX, NeXTSTEP, and AIX/6000 (Version 3) while working at APL (American President Lines) in Oakland, California. Back then, my desktop was a pricey Macintosh Quadra 950 and today I work on a pricey Mac Pro desktop. The Mac Pro lets me use VMware virtualize development environments for Oracle Linux, Red Hat Enterprise Linux, Fedora, and as you might guess Windows 7/8. My question to those dyed in the wool Microsoft users is simple, why would you choose a single user OS like Windows over a multi-user OS like Mac OS X?