Archive for the 'iPad' Category
What happens when iPhoto doesn't export movies? One of two things, you re-install iPhoto and risk losing the movies and photos; or you drop down to the Terminal level and move the files manually before re-installing iPhoto.
Option one is easy, you open iPhoto, choose File from menu, and Export… from the File menu list. When you get to the dialog, change it Kind value to original. If everything is working, you should be able to double click the exported file in a Finder window and launch the program with QuickTime Player.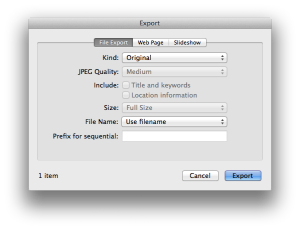 It's important to know how to use option two when you've copied the movies from your iPhone, iPad, or iPod, and then deleted them. At this point, all you have is a recovery option from your local MacBook, MacBook Pro, or iMac to a safe folder (or command-line directory) before updating iPhoto.
This is how you perform option two:
Open Finder and navigate to your user's home directory, left click on Pictures, and then right click on iPhoto Library and choose Open With option from the first floating menu then Terminal on the context (or second) floating menu.
In the Terminal window, a pwd command will show you the following directory for a user with the name someuser:
/

Users

/

someuser

/

Pictures

/

iPhoto Library
Again in the Terminal window, type a ls command will show you the following directory structure:
AlbumData.xml		Info.plist		Projects.db
Attachments		Library.data		ThemeCache
Auto Import		Library.iPhoto		Thumbnails
Backup			Library6.iPhoto		iLifeShared
Caches			Masters			iPhotoAux.db
Contents		Modified		iPhotoLock.data
Data			Originals		iPhotoMain.db
Data.noindex		Previews
Database		ProjectDBVersion.plist
In the Terminal window, change directory to the Originals directory with this syntax from the previous directory:
The directory structure can differ because of changes over time. The following is a snapshot example from 2012:
Jun 

15

, 

2012

    Jun 

21

, 

2012

    Jun 

24

, 

2012

	Jul 

21

, 

2012

    Sep 

3

, 

2012


Jun 

18

, 

2012

    Jun 

22

, 

2012

    Jul 

4

, 

2012

     Aug 

14

, 

2012

    Oct 

20

, 

2012


Jun 

19

, 

2012

    Jun 

23

, 

2012

    Jul 

7

, 

2012

     Aug 

24

, 

2012

    Nov 

21

, 

2012
Change to any of the preceding directories, and copy the *.MOV files to new directory. I've elected to copy the files to the following directory or the someuser home directory (you can make the directory using the GUI Finder interface):
/

Users

/

someuser

/

MovieBackup
While the directory structure can differ because of changes in iPhone versions over time. Once you change into one of subdirectories of the Originals directory, you can move all of the movie files from one of the subdirectories with this command to the MovieBackup directory:
cp

 

*

.MOV ~someuser

/

MovieBackup
It's possible to move all your files by scripting a more elegant Bash file. As always, I hope this helps those who encounter the problem.
Back in June, I considered replacing my iPhone with an HTC Evo.. I didn't do it then for two reasons.
The battery life of the Evo was too short to make it worthwhile and the cost wasn't too different. My son Joseph's passionate sentiments for everything Apple and his membership on the family plan helped dissuade me.
When I dropped my son from the family program, AT&T took all my accumulated minutes away. Truly, it was not a customer centric moment. At the end of the day, my bill went up 15% relative to the cost of half of the family plan.
Last summer, I didn't have an iPad nor did I foresee buying a first generation one. That was then, but I caved as summer went on and I considered writing an eBook. Notwithstanding my January comments on the iPad, I bought one in late July. It's features made my iPhone a little jealous and me a little less enticed by the iPhone. The only thing my iPhone could do that it couldn't was connect to the AT&T network.
Today, I bid my iPhone adieu. I made the move to economize from AT&T's rates to Sprint. I went with the LG Optimus S. You can read a review if you're interested about it here. The LG Optimus S is a nice mid-range Android 2.2 smart phone that cost $49.
I suppose that one of my kids will get the iPhone now. The 16 GB unit can serve as an iPod or WiFi device for email and music. These truly have become ubiquitous devices, and we owe Apple a debt for that! By the way, I love the iPad and won't lament its lack of a camera when the next generation arrives with the new year. 😉
The REST OF THE STORY, as of February 2012, is:
I couldn't live on the Android. It was an awkward interface after the iPhone.
I couldn't return to AT&T, the coverage where I'm at is horrible and their prices are absurd.
Sprint sells the iPhone and the coverage and price work.
My return to the iPhone and recommendation for a case is in this blog post.