Archive for the 'iPhone 4s' Category
What happens when iPhoto doesn't export movies? One of two things, you re-install iPhoto and risk losing the movies and photos; or you drop down to the Terminal level and move the files manually before re-installing iPhoto.
Option one is easy, you open iPhoto, choose File from menu, and Export… from the File menu list. When you get to the dialog, change it Kind value to original. If everything is working, you should be able to double click the exported file in a Finder window and launch the program with QuickTime Player.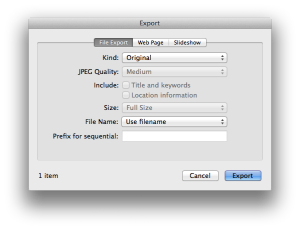 It's important to know how to use option two when you've copied the movies from your iPhone, iPad, or iPod, and then deleted them. At this point, all you have is a recovery option from your local MacBook, MacBook Pro, or iMac to a safe folder (or command-line directory) before updating iPhoto.
This is how you perform option two:
Open Finder and navigate to your user's home directory, left click on Pictures, and then right click on iPhoto Library and choose Open With option from the first floating menu then Terminal on the context (or second) floating menu.
In the Terminal window, a pwd command will show you the following directory for a user with the name someuser:
/

Users

/

someuser

/

Pictures

/

iPhoto Library
Again in the Terminal window, type a ls command will show you the following directory structure:
AlbumData.xml		Info.plist		Projects.db
Attachments		Library.data		ThemeCache
Auto Import		Library.iPhoto		Thumbnails
Backup			Library6.iPhoto		iLifeShared
Caches			Masters			iPhotoAux.db
Contents		Modified		iPhotoLock.data
Data			Originals		iPhotoMain.db
Data.noindex		Previews
Database		ProjectDBVersion.plist
In the Terminal window, change directory to the Originals directory with this syntax from the previous directory:
The directory structure can differ because of changes over time. The following is a snapshot example from 2012:
Jun 

15

, 

2012

    Jun 

21

, 

2012

    Jun 

24

, 

2012

	Jul 

21

, 

2012

    Sep 

3

, 

2012


Jun 

18

, 

2012

    Jun 

22

, 

2012

    Jul 

4

, 

2012

     Aug 

14

, 

2012

    Oct 

20

, 

2012


Jun 

19

, 

2012

    Jun 

23

, 

2012

    Jul 

7

, 

2012

     Aug 

24

, 

2012

    Nov 

21

, 

2012
Change to any of the preceding directories, and copy the *.MOV files to new directory. I've elected to copy the files to the following directory or the someuser home directory (you can make the directory using the GUI Finder interface):
/

Users

/

someuser

/

MovieBackup
While the directory structure can differ because of changes in iPhone versions over time. Once you change into one of subdirectories of the Originals directory, you can move all of the movie files from one of the subdirectories with this command to the MovieBackup directory:
cp

 

*

.MOV ~someuser

/

MovieBackup
It's possible to move all your files by scripting a more elegant Bash file. As always, I hope this helps those who encounter the problem.
Life's interesting, and thankfully AT&T is no longer the sole provider of the iPhone. On December 21st, 2010, I replaced my iPhone 3G with a LG Optimus S using Sprint. It was adequate, and far cheaper than what AT&T was charging me. It also had 3G service because AT&T didn't provide coverage in Rexburg, Idaho.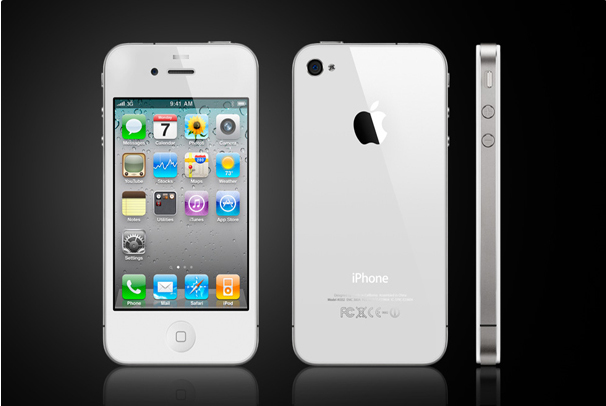 The iPhone is now on Sprint, and I switched to the iPhone 4S. When I went and got it, I thought it strange that there wasn't an order option for AppleCare+. No one mentioned that AppleCare+ was now the ticket, and that it's the responsibility of the vendors to advise you at the time of purchase. They didn't advise me! Is it possible that they don't want to advise you because AppleCare+ provides for two repairs for accidental damage at $49 per service opportunity and covers any part that might fail earlier through normal use. Who wouldn't opt to protect the iPhone from both a faulty part or grip for $99 over 2 years?
A rumor or rumbling that may have its origin in Apple Support is that AT&T, Sprint, and Verizon aren't telling customers at the time of sale. Customers must then take their iPhone to an Apple Store, not an authorized reseller, have their phone inspected before they can get AppleCare+ after sale. That is if you do it within 30 days of the purchase with proof of purchase and a Genius Bar appointment.
Alert to potential buyers, demand AppleCare+ before you get your iPhone! Let your friends know because this may be more than a baseless rumor. That is, unless you like inordinate risks. Those in that category should watch this unfortunate Assuie bungee jumper go swimming with the crocodiles. At least the crocodiles didn't get her below Victoria Falls in Zimbabwe, which is a miracle in itself.
The downside was that I'd have to go to Salt Lake City for the coverage, the upside is I have an iPhone again. The upside outweighs the downside, but like Shylock in the Merchant of Venice I'd like to get my metaphoric pound of corporate flesh. When I posed the question to the Sprint kiosk, "Is it possible that the vendors have some financial interest in folks not purchasing AppleCare+?" 😉 That question asked; and, miraculously, Sprint said it was their error and they'd fix it – add AppleCare+. Apple support emailed me to confirm that AppleCare+ is now enforce on my new iPhone. That proves the squeaky wheel does get oiled.
I strongly recommend you don't waste your money on anything less than an Otterbox Defender Series Hybrid Case & Holster for iPhone 4 & 4S.
The video below explains why.
The only problem I've found is the hip case because it's hard plastic and breaks. Fortunately, you can buy just the OtterBox iPhone 4S Defender Case Replacement Belt Clip Holster
through Amazon.com for less than $8 at the time of updating this blog post.