Archive for the 'iPhone6' Category
I replaced my OtterBox Defender with an i-Blazon Prime case when upgrading to the iPhone 6. It appeared a good option, and for 4 months it was fine. Yesterday, the latch broke and my iPhone fell to the ground as a walked. Fortunately, my iPhone landed flat, the i-Blazon plastic case absorbed the impact, and my iPhone was undamaged.
Here's a photograph of the damaged case: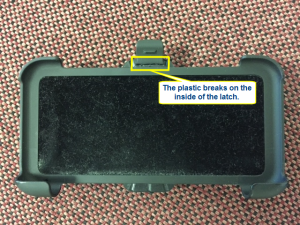 While I wanted to order only the belt portion of the case, that's not possible like it is with the OtterBox Defender. So, I ordered a new i-Blazon. My plan is to monitor the belt case. If it cracks again, I'll protect the telephone and I'll know to move back to the OtterBox Defender.