These are the steps to install the MarkLogic 4.2 Server. Download the software from the MarkLogic site.
Install Product
The first screen is the welcome dialog. Click the Next button to continue.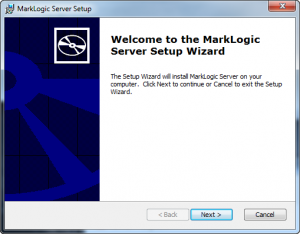 The first decision is whether you want to install the product in its typical, custom, or complete configuration. It's best to install the complete configuration. Click the Complete icon to install the full product.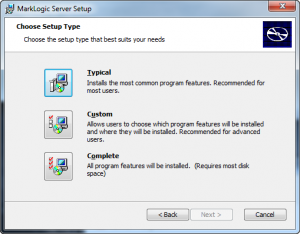 The next screen requests that you confirm the installation before preceding with it. Click the Install button to proceed.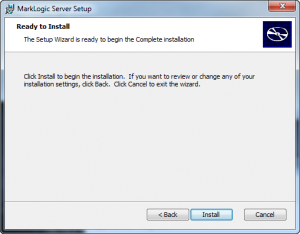 The following screen is a progress bar. When it completes, click the Next button.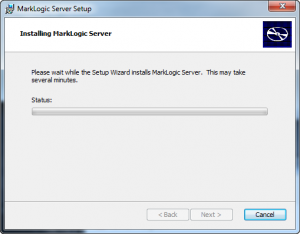 This is the last screen completes the product installation. Click the Finish button to complete the installation.
License and Basic Configuration
After installing the product, you must start the MarkLogic Service to configure the installation. You can open the Services dialog with the services.msc command from the command-line. Click the Start link in the center column of the dialog box.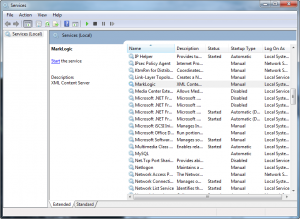 After starting the services, you'll see the following screen. It indicates that you Stop or Restart the service, which means its running.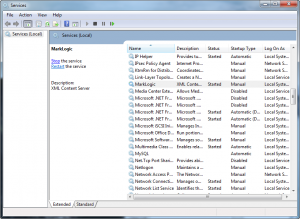 The http://localhost:8001 is the MarkLogic administration URL. On initial entry, you're prompted for a license key. Click the free button to install a developer copy, which limits you to 20 GB of data in the MarkLogic database.
Enter the required information for the license, and then click the Get License Request button to get a community license.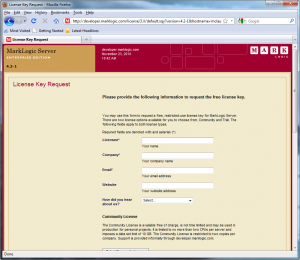 After posting the request, you get the response with the generated license key. Click the ok button to proceed.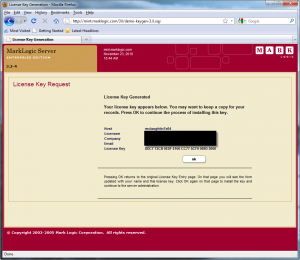 After acknowledging the license key, you see a progress screen as the service starts for the first time.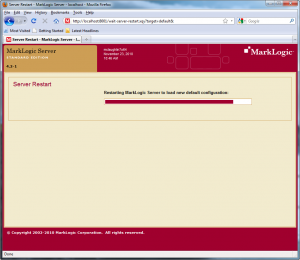 After the service starts, you get a Personal License agreement. You accept it to proceed.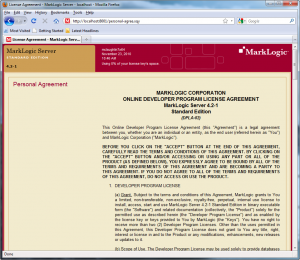 The next screen asks you to confirm that you want to allow the self-install of the initial databases and application servers. Click the ok button to continue.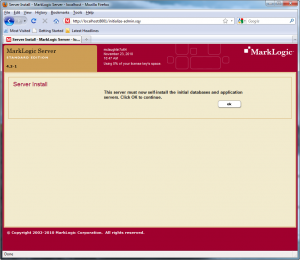 This is the Security Setup screen. Enter the values from the table provided. You may choose something else for the Admin user account and password but just don't forget it. If this is a development installation, I'd leave it as it is with the trivial values provided in the example.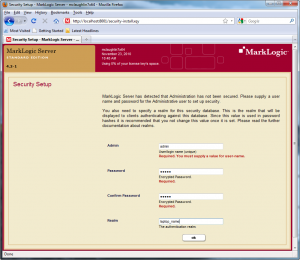 | | |
| --- | --- |
| Parameter | Value |
| Admin | admin |
| Password | admin |
| Confirm Password | admin |
| Realm | machine hostname |
The next dialog is a Basic HTTP Authentication dialog. Enter the Admin user name and password to proceed. Click the OK button after you've entered the values.

This is the default console page for the MarkLogic Server. You've completed the install configuration.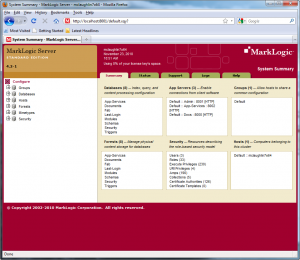 You can navigate to the Configure MarkLogic post for product configuration instructions.
One Response to 'Install MarkLogic Server'
Leave a Reply