It's seldom that Oracle makes an effort to give an Oracle Press book away for free, but they've done it. You can download the Getting Started with Oracle NoSQL Database book from Oracle Press for free.
Getting Started with Oracle NoSQL Database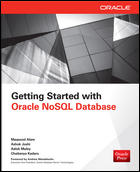 Overview of Oracle NoSQL Database and Big Data
Introducing Oracle NoSQL Database
Oracle NoSQL Database Architecture
Oracle NoSQL Database Installation and Configuration
Getting Started with Oracle NoSQL Database Development
Reading and Writing Data
Advanced Programming Concepts: Avro Schemas and Bindings
Capacity Planning and Sizing
Advanced Topics
Just so you know, knowledge of Java and Hadoop are helpful. It's a short 71 pages but a nice heads up and here's what you do starter book.
If you're opening in iBooks on an iPad, make sure you let the whole book download first as a PDF file. You may only get a partial PDF file when you don't let it download completely to your browser. It isn't the speediest download, notwithstanding its small size.