CQ is MarkLogic's client-side tool for interacting with the XML database. It is a web-based tool, which makes the deployment easy. This assumes that you've already installed and configured the MarkLogic Server. If not, you can read Install MarkLogic and Configure MarkLogic before you do these steps.
After completing the configuration, you should download the CQ tool from the MarkLogic download server.
Open a Windows Explorer session and navigate to where you've installed MarkLogic, which will be installed in the Program Files directory for a 32-bit Windows and Program Files (x86) directory for a 64-bit Windows (for a 32-bit version of MarkLogic). The 64-bit version of MarkLogic won't install on a 32-bit Windows but will install in the Program Files folder of a 64-bit Windows installation. Click on the Docs subfolder to expose its subfolders, like the following.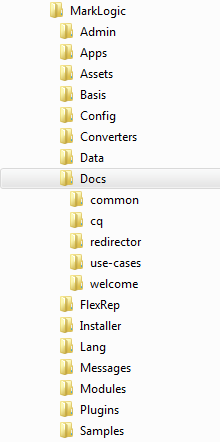 Drag the CQ components into the MarkLogic\Docs\cq folder.
Provided you've started the MarkLogic Service on Windows, you can access CQ by using the http://localhost:8000/cq URL. This is shown with the default program unit in the following screen shot. You can run it by clicking the XML button.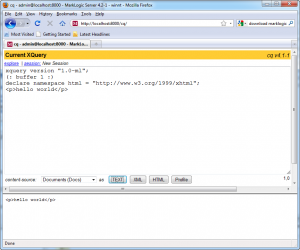 You might try some of your own XQuery code, like this:
1
2
3


let $message := "Hey world, hello!"
return (xdmp:set-response-content-type("text/html"),
        <body

>

Live from New York City, [{$message}]</body

>

)
6 Responses to 'Configure MarkLogic CQ'
Leave a Reply