Archive for the 'JavaOne' Category
Oracle R Enterprise: Harnessing the Power of R in Oracle Database
, which I went through quickly last night. It looks well written and I liked the examples.
Brendan also gave me a copy of the group effort on Real World SQL and PL/SQL: Advice from the Experts. I looked through it too, but as is often the case with 5 or more author's, it looks a little mixed. I liked the section on Advanced Analytics (Chapters 10 & 11), and thought Chapter 12 has some good points on encryption.
While there were rumors about Oracle Database 13, they're more or less just that. The funniest was it'll be a short release, and eclipsed by Oracle Database 14 because of superstition. If that were true, Oracle might just re-market like Oracle 2 Version 1. In short, I think we'll need to wait to hear about the next version next year.
In case you're wondering, the Giants lost to St Louis. The score was 3-0. It was also 87° in San Francisco yesterday.
Interesting beginning to OpenWorld/JavaOne yesterday. I had the chance to visit with Brendan Tierney and he gave me a copy of his new

Oracle OpenWorld 2013 and JavaOne 2013 are over and the America's Cup a done deal. It was a full week. I didn't have a moment to blog because I stay out in Livermore, which adds an hour plus to the beginning and ending of my day. It's funny but I didn't get a sense from some that they were excited about Oracle 12c. That's probably because they don't appear to know too much about it yet.
The Container Database (CDB) versus Pluggable Database (PDB) has enormous impact on how we can leverage Oracle in the private or public cloud. Admittedly, the ideas and concepts take some time to understand, implement, and appreciate.
Talking to folks, I got some great ideas for future blog posts.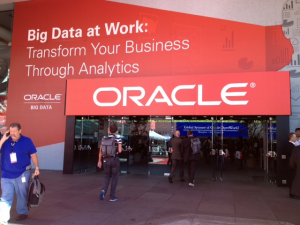 If you have any that I should add, let me know with a comment. I think the first one will show everyone how to migrate traditional surrogate key primary key columns to Oracle 12c's new Identity Columns.
Having seen some presentations referencing zetta-bytes, I wondered to myself (and now blog readers): "When will the Exadata server be replaced by a Zettadata server?"
Up there on my list for new blog posts are Oracle 12c's new Invisible Columns and new DBMS_REDACT package. For those interested, I'll also present at UTOUG's Fall Symposium on October 29th, 2013 on SQL and PL/SQL New Features in the Oracle Database 12c.
It was great to see familiar faces and sad to note those missing. Somehow the energy in Dell's demo ground didn't quite replace the old Quest Software demo ground's pizazz.
Once home, I had to pivot back to task. I'm copy editing the Oracle Database 12c Programming PL/SQL Programming book, which will release in February 2014.
If you're wondering about the photo of the Golden Gate Bridge, my son Joseph took it with his new iPhone 5s. I'm looking forward to my own iPhone upgrade in November. 😉
I registered yesterday for Oracle OpenWorld 2013, and I'll look forward to seeing friends there. Having worked in the Oracle 12c beta for a year, I'll be interested in the presentations. Also, hearing more about Java 7 at JavaOne. On the downside, I'm missing MySQL Connect this year.
Cloud computing offers many possibilities, and container and pluggable databases are a great solution. We've two new acronyms with the Oracle 12c release. A containerized database is a CDB, and a pluggable database is a PDB. I'm looking forward to seeing more about the provisioning of PDBs during the conference. If you're new to the changes, check out CDBs and PDBs in Chapter 17 in the Oracle 12c Concepts manual.
A couple of my favorite new features are Identity and Invisible Columns. If you're unfamiliar with the new features for application development, let me recommend this Oracle White Paper. Also, for reference I've covered identity and invisible columns thoroughly in the Oracle Database 12c PL/SQL Programming book, which will be available in December.
Missing the MySQL Connect 2013 Bus
Unfortunately, travel budgets preclude me attending MySQL Connect 2013 this year (alas, I'll miss the bus). 🙁 It was hard because I'd like to see what's up with MySQL (since I was a closet MySQL user at Oracle before they acquired it). Anyway, if you're there, make sure you check out MySQL Workbench 6 for me. Also, I'd like to thank Dave Stokes for the AWESOME review he wrote on Amazon.com for my MySQL Workbench: Data Modeling & Development book. Maybe, I'll get to go to MySQL Connect 2014 next year.