Rebuilding new reference environments on my MacPro, I started with Ubuntu 10.04.01 LTS (64 bit), I had to recall the step to install VMWare Tools. It's quite simple but I know my students may need the steps to configure a VMWare virtual machine and it may benefit others. While this Ubuntu help page is a good start it isn't a step-by-step configuration guide.
Navigate to the VMWare Menu, choose Virtual Machine and in the drop down menu Install VMWare Tools. This will mount a virtual CD in the Ubuntu virtual machine.
Open a terminal session by choosing Applications, within the drop down choose Accessories, and in the subsequent drop down choose Terminal. It will launch a terminal session for command-line entry. The screen shot will look like the following.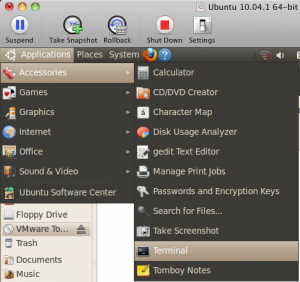 From the command-line perform the following tasks:
cd

 

/

media

/

VM

*




cp

 VMwareTools

*

.gz 

/

tmp


cd

 

/

tmp


gunzip

 VMwareTools

*

.gz


tar

 

-xvf

 VMwareTools

*

.tar


cd

 vmware-tools-distrib


sudo

 .

/

vmware-install.pl
After starting the vmware-install.pl, accept all the default prompts. Alternatively, as Josh points out enter the following to skip the prompts:
sudo

 .

/

vmware-install.pl 

--default
After the configuration completes, you're prompted to restart the X-Windows. The easiest way is to reboot. You click on the upper right corner to get the drop down menu to restart Ubuntu. A screen shot follows.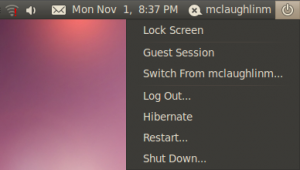 This completes the VMWare Tools installation on Ubuntu but unfortunately, you may need to setup the network connection. In a couple instances, the Ubuntu installation appears to have corrupted the VMWare networking process. The result is that the DNS setup on Ubuntu didn't work.
When the Ubuntu /etc/resolv.conf file is empty. You should first restart the VMWare network. This can be done without rebooting your native Mac OS X. Open a Terminal session, and navigate to the following directory and restart the VMWare network or use this command with backquoting.
sudo

 

/

Library

/

Application\ Support

/

VMware\ Fusion

/

boot.sh  

--restart
If your Ubuntu /etc/resolv.conf file is empty, you can manually edit it. The last line in this sample depends on your IP subnet. I've entered it by assuming that you're on 192.168.75.0 to 192.168.75.255 with a 255.255.255.0 network mask. You can refer to this prior post for the details on how you find your VMWare NAT subnet.
When your Ubuntu /etc/resolv.conf file is empty, add these values:
# Generated by NetworkManager


domain localdomain
search localdomain
nameserver 192.168.75.2
Hope this helps some folks.