Oracle OpenWorld 2013 and JavaOne 2013 are over and the America's Cup a done deal. It was a full week. I didn't have a moment to blog because I stay out in Livermore, which adds an hour plus to the beginning and ending of my day. It's funny but I didn't get a sense from some that they were excited about Oracle 12c. That's probably because they don't appear to know too much about it yet.
The Container Database (CDB) versus Pluggable Database (PDB) has enormous impact on how we can leverage Oracle in the private or public cloud. Admittedly, the ideas and concepts take some time to understand, implement, and appreciate.
Talking to folks, I got some great ideas for future blog posts.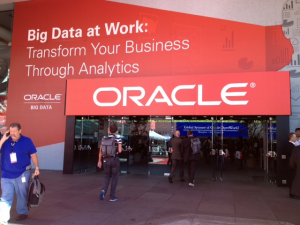 If you have any that I should add, let me know with a comment. I think the first one will show everyone how to migrate traditional surrogate key primary key columns to Oracle 12c's new Identity Columns.
Having seen some presentations referencing zetta-bytes, I wondered to myself (and now blog readers): "When will the Exadata server be replaced by a Zettadata server?"
Up there on my list for new blog posts are Oracle 12c's new Invisible Columns and new DBMS_REDACT package. For those interested, I'll also present at UTOUG's Fall Symposium on October 29th, 2013 on SQL and PL/SQL New Features in the Oracle Database 12c.
It was great to see familiar faces and sad to note those missing. Somehow the energy in Dell's demo ground didn't quite replace the old Quest Software demo ground's pizazz.
Once home, I had to pivot back to task. I'm copy editing the Oracle Database 12c Programming PL/SQL Programming book, which will release in February 2014.
If you're wondering about the photo of the Golden Gate Bridge, my son Joseph took it with his new iPhone 5s. I'm looking forward to my own iPhone upgrade in November. 😉